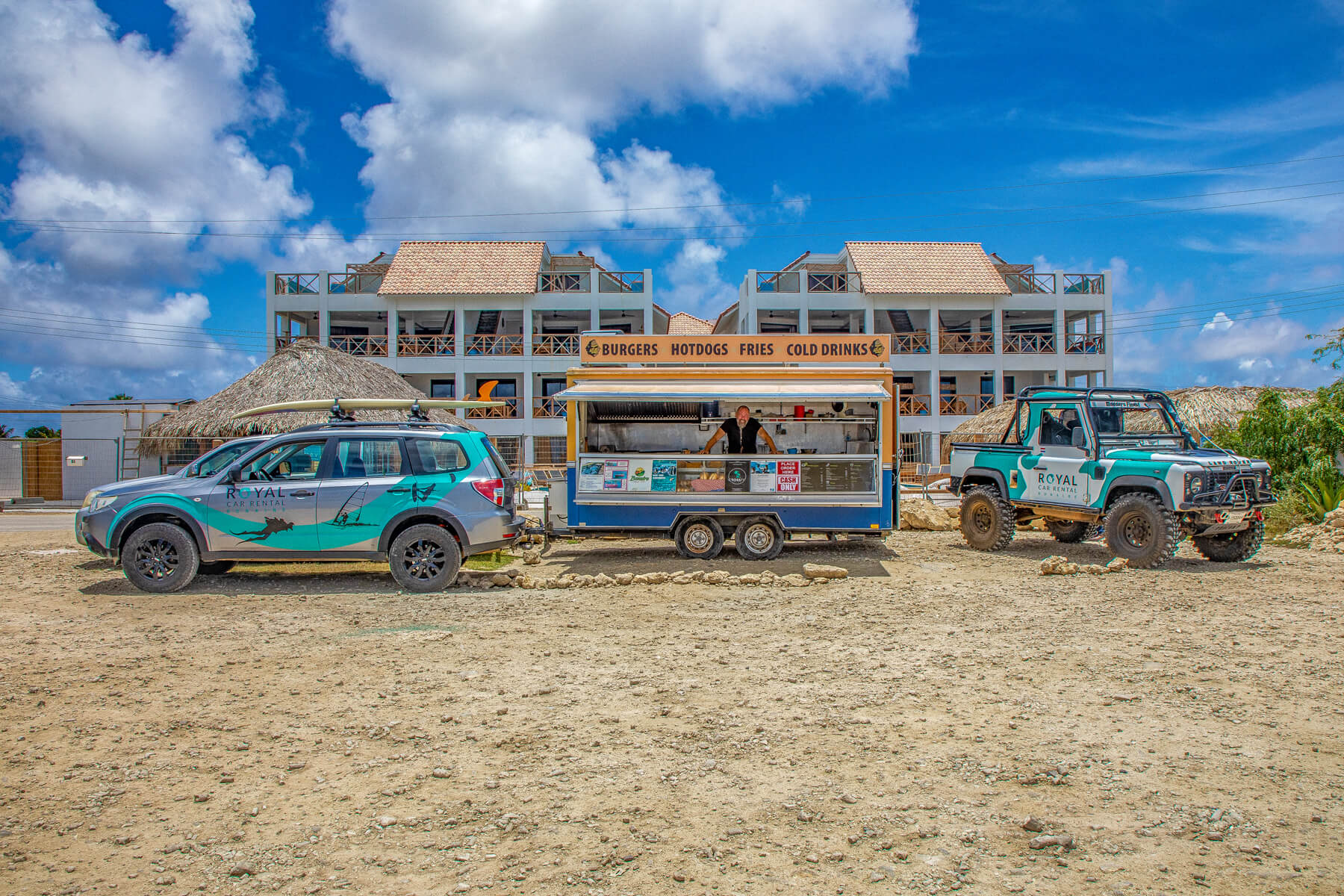 Food trucks of Bonaire: our favorites for 2023
Bonaire is an island that is full of culture, history, and delicious food. One of the most popular ways to enjoy local cuisine on the island is by visiting one of its many food trucks. These trucks, known as "Trùki Pan" in Papiamentu, have been serving hungry visitors with traditional dishes since the late 1800s! Let's explore why these beloved mobile eateries are a mainstay on Bonaire.
The history of food trucks in Bonaire, the Trùki Pan
The origin story of food trucks in Bonaire begins in the late 1890s when a group of immigrants from Curaçao arrived on Bonaire. After setting up shop on the island, these new arrivals began to build their own wagons that could be used for transportation as well as selling goods and services. The first generation of truck owners used their carts to sell fresh produce, homemade bread, and other items to locals and tourists alike—and thus the tradition of the Trùki Pan was born!
Food trucks have become so iconic in Bonaire that they even feature in paintings by local artists. Visitors love them because they provide an authentic taste of local culture and comfort during their stay. On Bonaire you can find all sorts of food trucks serving delicious treats such as tamales, pastechi's (a local type of filled pastry), grilled meats, barbecue, hamburgers and sweets.
Today there are over 40 Trùki Pan owners operating across Bonaire. If you want to visit one while you're here, it's best to do your research beforehand—not all trucks serve food every day and some may offer different items than others. Additionally, make sure you bring cash with you since most trucks don't accept credit cards or other forms of payment!
Our favorite food trucks in Bonaire
When it comes to delicious street food, Bonaire is the place to be. From the juiciest hamburgers to mouth-watering tacos, this Caribbean island offers a wide range of delicious dishes that can be enjoyed in the comfort of your own home or on the go at one of the many food trucks scattered throughout the island. If you're looking for an authentic taste of Bonaire, look no further – these are 10 of our favorite food trucks on Bonaire for 2023:
#1 King Kong Burger
If there is one food truck that deserves to kick off with, it is King Kong Burger.
King Kong Burger is one of the few food trucks on Bonaire with a Tripadvisor Travellers Choice Award and has been considered the best food truck on Bonaire for years.
At King Kong Burger, you stop for the most delicious burgers on the island. The menu features a number of creatively conceived burgers. The Italian Job with a leading role for Parmesan and truffle for example. Do you prefer to compose your own burger? That is also possible. You can choose from a long list of fresh toppings to create your ideal burger.
Your lunch is really complete with a "mosquito repellent" fry. After eating these fries you know for sure that there are no mosquitoes around. Neither will your partner, so keep that in mind! We warned you…
Find the burger on the roadmap and taste for yourself!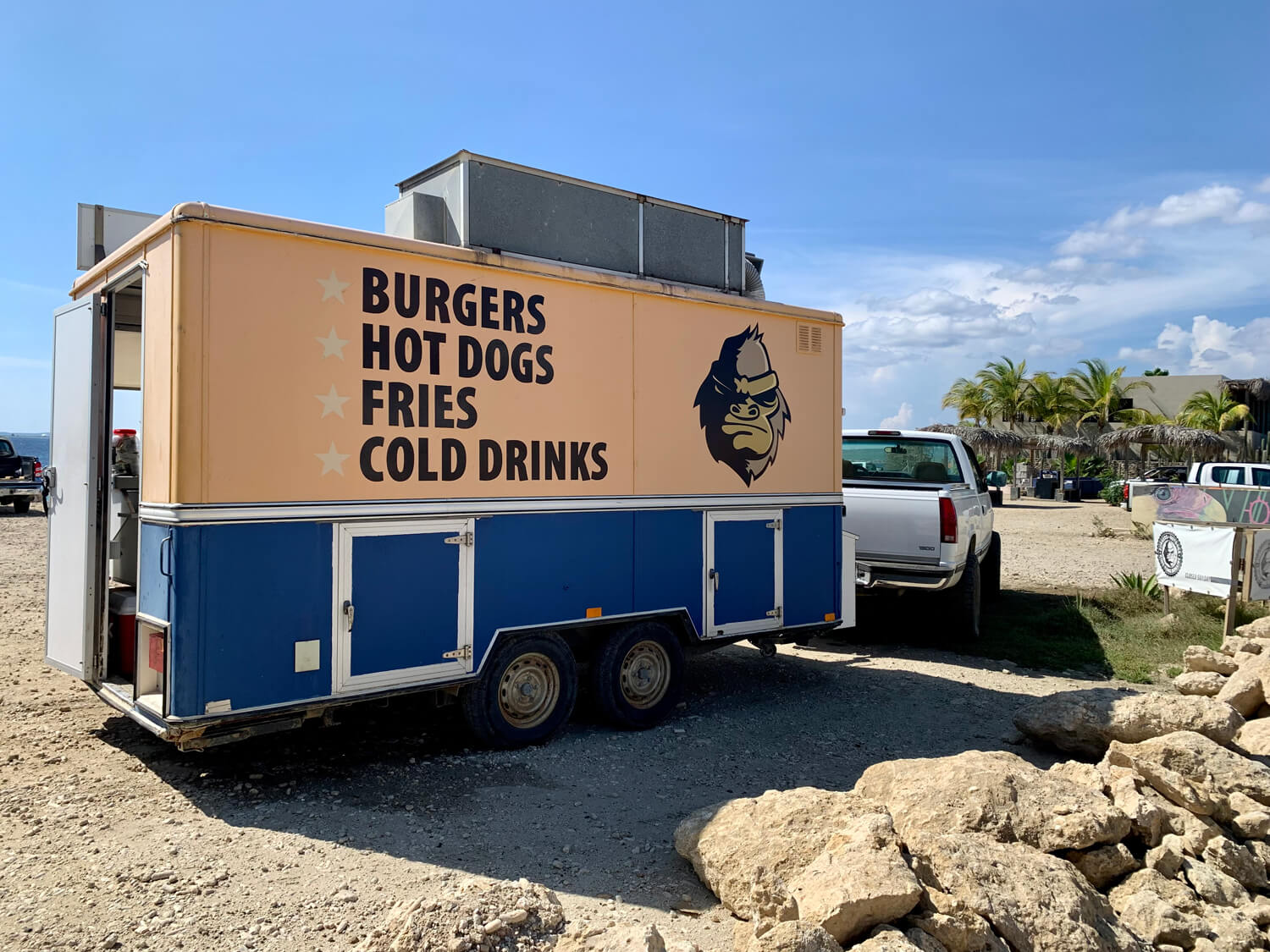 #2 The Fat Dog
The Fat Dog is the food truck with the most challenging concept on Bonaire. Original Texas Barbecue with a street-style twist. A visit to this food truck is a must during your stay on Bonaire. You'll find a tasty variety of smoked meats. The thirteen hours smoked brisket and pork butt are the real winners. Great on a grilled brioche bun or in a homemade taco. Besides the regular assortment of smoked meats, there are daily changing specials.
You will find the Fat Dog on the back terrace of Cuba Company at the beginning of the Kaya Grandi.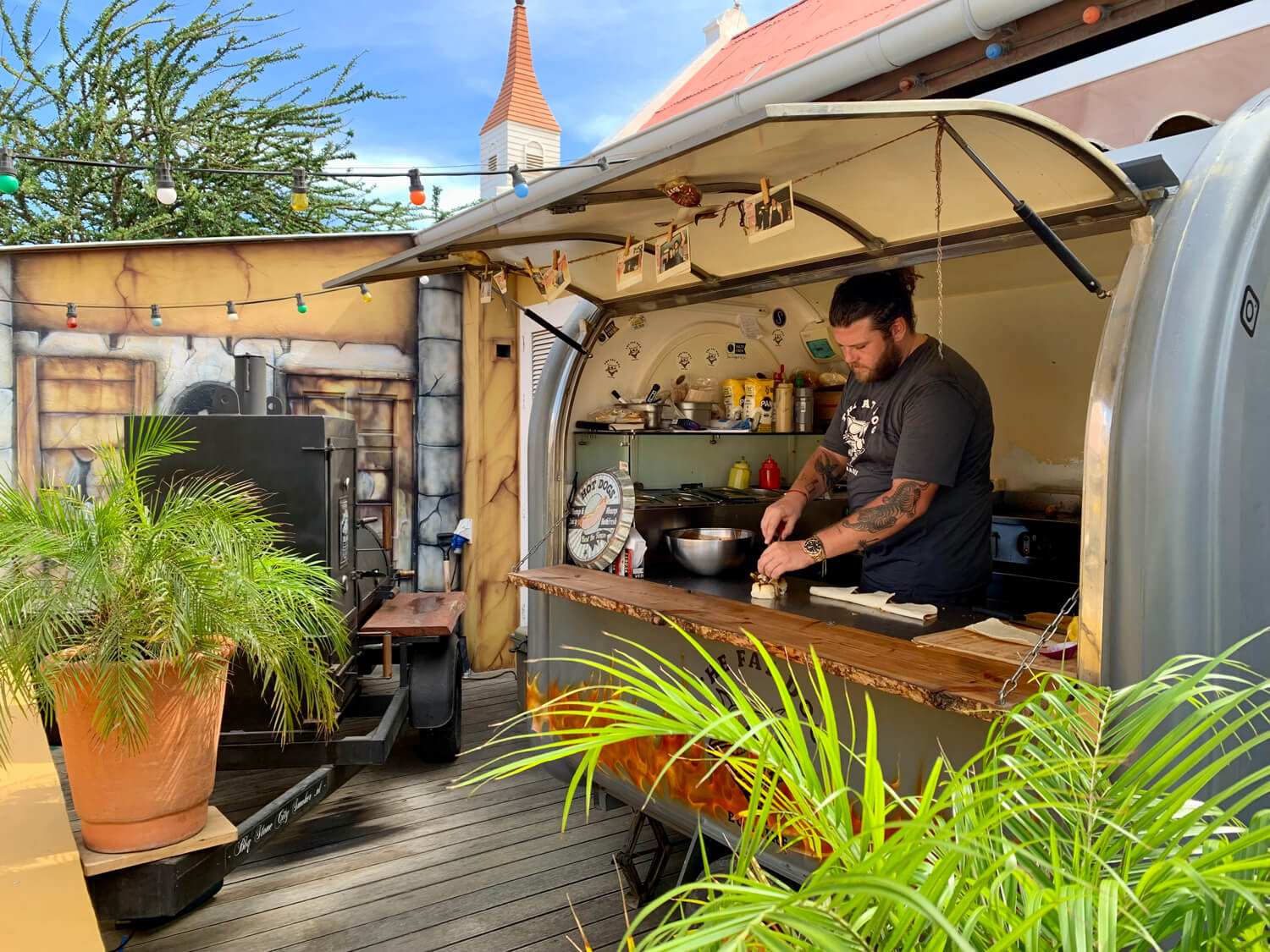 #3 Kite City
Kite City's menu consists mainly of local, fresh fish served on a burger roll or in a wrap. It depends on the catch which species are available. Barracuda, Wahoo and Tuna are caught most often, but Rainbow Runner and Mahi Mahi are also regularly on the changing daily menu. Kite City's big specialty is the fresh tuna; a plate full of tuna steak, tuna tartare and sashimi served with soy sauce, wasabi and pickled ginger. Simply enjoyable!
Kite City's food truck used to be located at Kite Beach, hence the name. These days, you can find Kite City in the parking lot of Te Amo Beach across from the airport.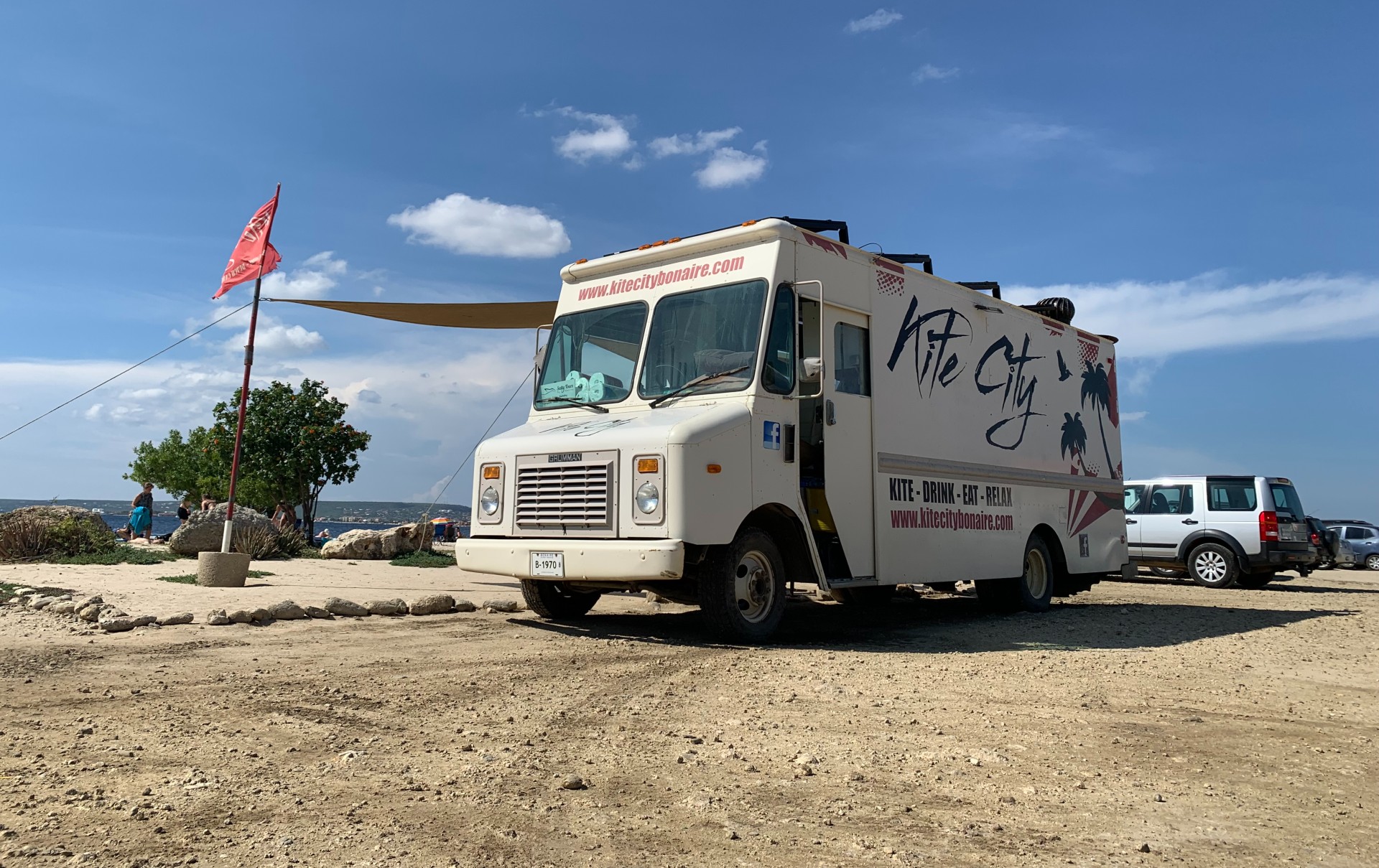 #4 Stoked
Like Kite City, the food truck Stoked is located in the parking lot at Te Amo Beach and is the largest food truck on the island. A converted English double-decker bus, totally awesome! Just like King Kong Burger, Stoked has received a Tripadvisor Travellers Choice award. An award given annually to the best in a particular category.
The bus is located at the head of the harbour entrance so you can sit on the rocks. With a snack in hand you can enjoy the often spectacular sunsets.
#5 Pita Madre
Pita Madre… we probably don't need to tell you where the inspiration for the name came from. The owner of this food truck is not only clever with words, he also makes very tasty pitas. How about a fluffy pita roll filled with Greek spiced chicken and homemade tzatziki? We also really like the Mexican pita with salsa and nachos.
The Pita Madre food truck is located next to the Chogogo Resort on the Hato roundabout. Park your car in the adjacent parking lot, walk along the resort to the water and enjoy the view of Klein Bonaire while you eat your pita.
#6 Cactus Blue
Cactus Blue is a tiny food truck with a nice seat among the trees on Donkey Beach. The menu is filled with all kinds of different wraps and beefburgers. Plane spotters are in the right place here. Cactus Blue is not quite yet at the beginning of the runway. This provides the necessary adrenaline when a KLM plane is blowing your hair. Hold on to your sandwich!
Besides serving delicious food, Cactus Blue also contributes to the coral preservation of Bonaire. Lionfish are actively hunted and pose a threat to the reef. At Cactus Blue you can eat this fish served as a burger. Do you dare?
#7 Smooth Operators
The name says it all; for the most delicious smoothies on the island you need to be at Smooth Operators. You choose from different types of tropical fruit such as papaya, sour bag, coconut and pineapple. Can't choose? Our favourite is the mix, with a little bit of everything.
The very best thing about this home food truck is that it has a real drive-through. When you drive close by the food truck, you can order directly from the always cheerful owner. He then lowers a crate on a string where you put your money in. After raising the money, your order comes sliding down in the same crate. Innovation at its Bonairean best!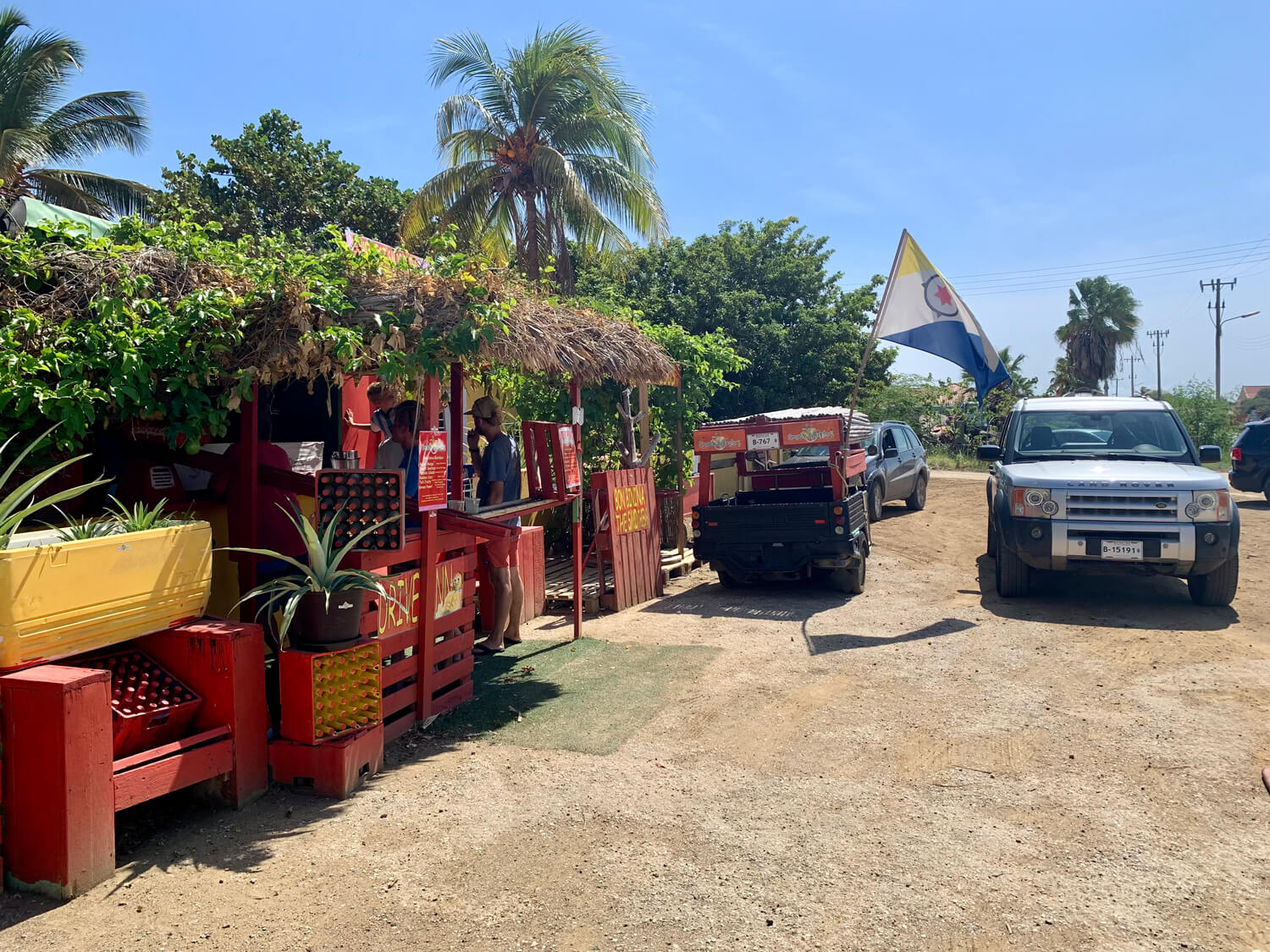 #8 Pastechi's & more
Pastechis, pastechis, pastechis; during a stay on Bonaire you can't escape them.
These half-moon shaped snacks are made of a special type of dough, after which they are filled, folded and deep-fried. The very best can be found at Pastechi's & more halfway down the boulevard. These Caribbean delicacies are traditionally eaten for breakfast, but they are also a must at a good Antillean party. You have them in many different versions. The cheese, tuna, chicken and minced meat pastchis are the most popular. We recommend that you try them all.?
#9 Johnny's Pizza
For a serious midnight snack, Johnny's is the place to be. Unlike most other food trucks, Johnny only opens late at night, around 21:00. Johnny is located at the parking lot next to the head office of the Bonaire Water and Power Company in the Playa district.
When he lights his mobile, wood-fired stone oven, the parking lot fills with the most pleasant odors. His richly topped pizzas are sure to leave you feeling satiated after a long Bonairean evening.
#10 Big Boys Grill
Big Boys Grill, like Pastechi's & more, is a favourite among Bonaire locals. If you like grilled meat this is the place to be. Pork chops, spare ribs, grilled chicken, it's all here. The meat is served with a choice of side dishes and sauces. You will find the food truck at the end of the Kaya Korona at the intersection where the road to Rincon begins. The food truck only opens at 8:00 pm in the evening and runs late into the night.
If you're looking for an authentic taste of Bonaire then head over to one of these amazing food trucks. Whether you want something savory or sweet, hot or mild there's something here for everyone! So come hungry and leave satisfied knowing that you've truly experienced all that Bonaire has to offer when it comes to street food!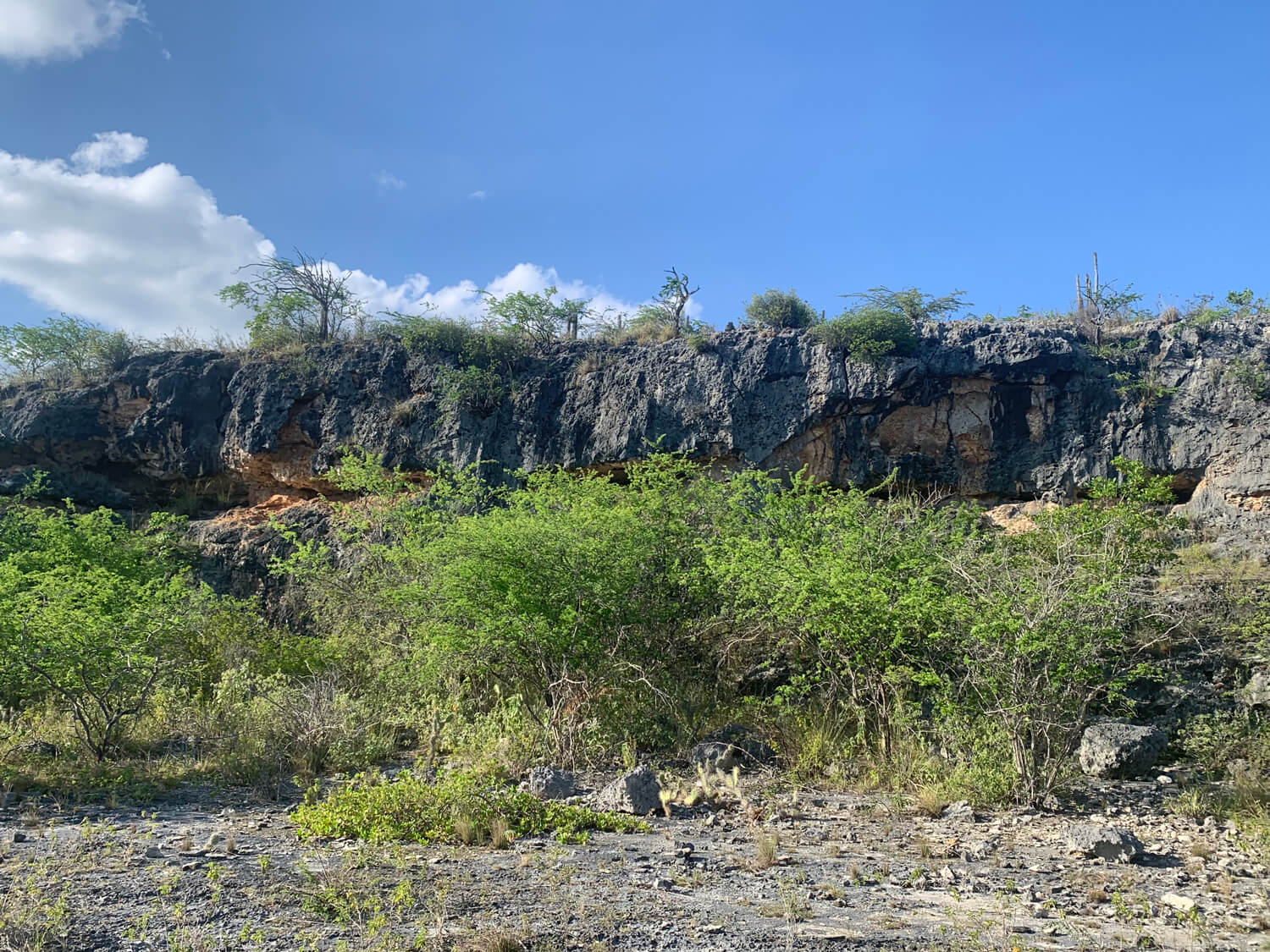 Explore all of the food trucks in one of our cars
Check Availability
Call us directly or send an email and receive a response within 24 hours!